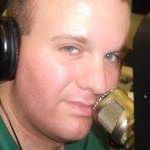 Hey!
I wanted to introduce myself to you.  My name is Jay, and I get to hang out with you every weekday morning from 6-10 on Q97.3!
I love reality TV and tweet way too much, ohh yeah, I sometimes buy stuff I shouldn't buy off TV (I have way too many kitchen as seen on TV appliances), I love going to the casino, where are the best odds?, and I love to try out new restaurants.   I'm terrified of squirrels and ceiling fans, we can chat about that later! 😉
I'd love to connect with you on Facebook or Twitter.. my links are below.  Can't wait to talk to you!